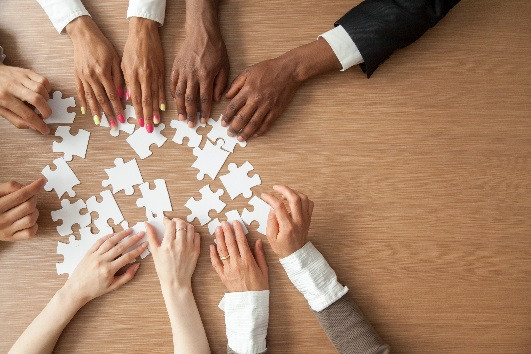 Is it time to look more closely at cultural leadership?
A preview of new research from the UK examining leadership in arts and cultural organisations was released in February. The results are alarming. Interviews with 13 participants, working in 'managerial and leadership roles, across different artforms and organisations', bring to light wide-ranging experience of abuse. The research directly links the mistreatment to a failure of leadership and poor organisational culture. A distinct lack of adequate systems where abuse can be safely reported and addressed was noted, further reinforcing a culture of fear and insecurity in the participating organisations. 
Conducted by cultural and creative industries researchers Melissa Nisbett, Ben Walmsley and Emma McDowell, the findings uncovered a raft of issues, which included bullying, gaslighting, racial, cultural and socioeconomic discrimination, sexual harassment and overwork. Victims were reported to have 'suffered from depression, anxiety, emotional exhaustion, loss of confidence' and felt they have 'no place to go' to report the abuse.
A ripple effect of identification and allyship has been sparked across the industry. Walmsley was 'overwhelmed by the initial response', as a groundswell of cultural workers contacted the researchers after the preview was released, identifying strongly with the findings, and reporting similar mistreatment and a lack of avenues for resolution.
The report suggests that it has only scratched the surface of a systemic, industry-wide crisis of leadership. 
The gravity of the UK findings should give us pause to consider: what is the state of cultural leadership in Australian organisations? Would we fare much better if a similar study was conducted here?
But, what do we actually mean by the term 'cultural leadership'? It would seem that there has been a lack of clarity around its definition.
A term with multiple meanings
The term has become commonly used across the industry, frequently appearing in organisational documents and as a mainstay in funding applications and acquittals. The neoliberal approach to public funding requires institutions receiving taxpayers' money to justify its use by demonstrating public value. And cultural leadership is often considered the means by which it is created. 
Thus, when outlining goals and articulating purpose, organisations regularly commit to contributing to their communities by providing cultural leadership. This commitment is usually linked to activities such as outreach, education and collaboration. 
This is one view of cultural leadership, linked to some form of civic contribution. Yet, it is often also framed from an individual perspective, with the leaders of the institutions themselves – artistic directors, CEOs, general managers and artistic directors –  referred to as 'cultural leaders'. 
These roles used to be more commonly called 'arts managers' or 'arts administrators', but the term 'cultural leader' became more favoured in the early 2000s. This was largely due to the work of cultural scholars John Holden and Robert Hewison, who were commissioned to write a number of reports examining a spate of monumental failures of management and governance in key British institutions in the mid-late 1990s. These included the Royal Opera House, The Royal Shakespeare Company and the British Museum. 
Partly in response to Holden and Hewison's exposé of a leadership crisis in the sector, the Clore Institute of Cultural Leadership was established in London in 2003 to build and foster a new approach to leadership. However, this most recent report suggests that cultural organisations in the UK are beset by even further leadership challenges.
Thus the term 'cultural leadership' entered industry vocabulary. In Australia we have adopted it with similar enthusiasm, although it has been subjected to scrutiny. In his groundbreaking 2014 work, Take me to your leader : the dilemma of cultural leadership, First Nations artistic director, Wesley Enoch questioned whether true cultural leadership existed in our major institutions. He highlighted a lack of willingness on the part of both individuals and their organisations to stand for something – to be bold and courageous, particularly when it comes to challenging or divisive issues of social change. 
There was no better example of this than the Marriage Equality Plebiscite of 2017. While many organisations confidently came out in support of the Yes vote, there were some notable exceptions that stayed silent (at least, initially), to vocal public discord. 
Yet times have shifted and there are public expectations of all organisations – not just cultural organisations – to put up clear positions on matters of social significance. Thus cultural leadership takes on even further significance, but, as Enoch asked in 2014, to what extent is it happening?
Cultural leadership at this moment
My current research into cultural leadership suggests that Australian arts organisations are at a critical moment in their understanding and positioning of their place in contemporary society. We have re-energised government focus on the sector, embodied in a new cultural policy. The conversation at government level about the value and importance of culture is more vibrant than it has been for some time.
But the industry is still reeling from the shock of COVID, which has depleted its workforce and audiences. At the same time, cultural institutions are finding themselves drawn into discussions relating to shifting social values and change, both locally, such as the current Voice to Parliament discussion, and globally, as in the debates around decolonisation of cultural works and cultural appropriation. 
My research argues that, considering all these factors and more, cultural organisations have an even greater opportunity to take a prominent, valuable and influential role in our society. 
But they first need to reckon with bigger questions relating to their identity and purpose – to understand what it really means to deliver cultural leadership. And, if the findings of this report resonate similarly in the Australian context as the global, urgently address practices of leadership, governance and organisational culture. 
Organisational culture
This brings us back to the essence of the report, which highlights shocking abuse of employees, and the ways in which this abuse is either executed or sanctioned by the leaders of the organisations. 
This is even more shocking given the reckoning with work culture we have seen in recent years. A rethinking of the accepted practices, norms and conduct that shape our workplaces and working lives has become a burning focus across many industries.
In fact, the #MeToo movement itself ignited within the cultural realm, with the exposés of serial offenders like Harvey Weinstein, John Lasseter and others. Yet, as the report from Nisbett, Walmsley and McDowell suggests, abuse of power is still occurring with alarming regularity.
So what can the report tell us about abuse and the cultural sector? 
The culture of leadership
The findings suggest that there are certain characteristics that are prevalent and amplified in creative environments.
The term 'dark side of charisma', was used to describe the type of brilliant, creative genius who inspires and uplifts a company. This kind of leadership has been associated with leadership styles common in arts environments, including  'charismatic' or 'guru' leadership. If we think of the tropes of creative leadership – the brilliant director, the tortured and tireless artist, the driven and ruthless theatre or movie producer, it is clear how certain types of behaviour have been normalised. 
Very recently, there has been a fictional representation of this kind of leadership in the movie Tár. The character of Lydia Tár is shown to be an exceptional prodigy who has become a celebrity conductor, exacting the highest standards from her musicians. Echoing the patterns of #MeToo, Tár's rumoured abusive behaviours and manipulation of power dynamics take place behind the scenes. The character is clearly based on a number of highly publicised examples. 
Of course, working with inspiring, creative geniuses can be exhilarating. For many cultural workers, the all-consuming, job-as-lifestyle-choice was the reason they embarked on careers in the arts in the first place. 
Yet the other side of being around this kind of leader can be a manic working style and implied or informal expectations that colleagues must work at a similar pace, that personal career progression depends on this frenetic energy. One interviewee likened the experience of working alongside this type of leader to 'driving a car beyond its speed limit'.  The researchers touch on a certain type of gaslighting that occurs when exhausted employees begin to question this working practice. Several reported they were made to feel as if they were 'going mad'. 
And, further, when they felt they needed to report the abuse, they had no one to turn to.
Accountability
This can be attributed to a lack of accountability, which featured as a dominant theme in the research. Where abuse took place, employees felt that they had no support systems at any level in the organisation. 
If issues were reported, they were not properly investigated as no one internally was sufficiently qualified to conduct the investigation. To speak up often equated to – one way or another – an exit from the company, whether it be through redundancy, dismissal, payouts or being moved on by some other method. 
And the failings of leadership were noted at board level also; boards were referred to as 'broken', weak, not appropriately qualified or invested enough to step up and take robust action when it was needed. 
Towards improving cultural leadership
So returning to my original question, how would Australian organisations fare under similar scrutiny? While the Australian industry isn't a mirror image of the UK, would we find similar issues? I believe it is very worthy of further consideration, and particularly right now. 
At this moment, there is a real opportunity for cultural organisations to be significant institutions in the fabric of Australian society. We have a government that is amplifying and highlighting the broader value that arts and culture bring to the fabric of the nation. With the first cultural policy in Australia since 1994's Creative Nation, the arts are more prominently part of the public conversation.  
There are undeniable challenges for cultural leadership and leaders. COVID has affected our industry in a multitude of ways, from an exodus of professional skills resulting in a serious supply shortage, to the incremental and draining challenge of rebuilding audiences to pre-COVID numbers. 
Similarly, we live in a contemporary society that expects a lot of its organisations, particularly its public organisations. Our audiences want us to have a stake in the big issues that shape our society, and the sector could be influencing and helping to progress these issues – not ignoring them or allowing them to be debated elsewhere. 
To meet these challenges, cultural organisations need to be firing on all cylinders. Institutions can consider how they may expand their sphere of influence, but first they must be dynamic, well-run and positive places to work.
A new approach
A new approach to cultural leadership could be the guiding light to bring all of this together. 
As an industry, we should take due heed of the research in the report from the UK, take a step back, and identify and acknowledge some of the similar challenges we face in our own companies. We need to look closely at what goes on inside, as well as outside, our organisations – whether our internal cultures are enabling a range of poor behaviours with which our internal systems are not adequately equipped to deal. 
Externally, arts organisations need to understand what their role is – what they are doing, why they are doing it and who they are doing it for. This needs to be completely clear at all levels within the company, as well as to all stakeholders.
The next phase of the UK research will be compelling, likely uncomfortable reading. We should take note and apply similar investigation to our industry here, so we can focus on what needs to be done in order to address the disconnections and deficiencies. 
The arts should offer an inspiring, rich and rewarding environment in which to work. But this won't happen unless the true meaning of cultural leadership is genuinely defined, understood and enacted.
Article link – https://www.artshub.co.uk/news/opinions-analysis/is-it-time-to-look-more-closely-at-cultural-leadership-2606963/