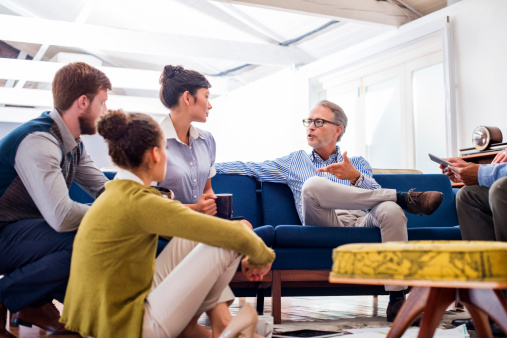 Three Ways CEOs Can Lay The Foundation For Leadership Development
Attaining the position of CEO is the culmination of years of hard work and dedication, reflecting the knowledge and leadership skills required for such a high-ranking position.
Any CEO, new or seasoned, knows what it takes to climb the corporate ladder and, therefore, can use that experience and insight to help cultivate their company's next wave of leaders.
As a CEO, I've seen how the new hires of today can evolve and ascend to become the leaders of tomorrow. I can also attest to how rewarding it is to see employees develop and grow under my tutelage.
The following are three ways CEOs can lay the foundation for leadership development.
Provide employees with opportunities to grow within the company.
With widespread talent shortages—particularly in the tech industry—companies are implementing different methods to support an in-house talent pipeline. One way to accomplish this initiative is to provide employees with ample opportunities to grow within the company.
For example, my company prefers to grow internally and promote from within for multiple reasons. One reason is that it provides opportunities for all employees. Another reason is that employees already know the ins and outs of the company and the products it offers. The challenge, though, is that not every employee is ready to take on a leadership role—and those that are, have to be mindful of the fact that there will be obstacles along the way.
When an employee moves up from the entry-level staff to management, they must be aware of the leadership skills required to effectively manage and oversee a team. It's easy for an employee to accept a higher title, but it's better if they first identify the training they need to thrive and excel in their new leadership role. This is also effective for employees who want to make a lateral move into another department.
Have open conversations when discussing career goals.
An effective way CEOs can leverage training and development opportunities to foster a culture of professional growth and continued learning is by having transparent discussions with each team member regarding their career goals. One thing that doesn't work is relying on an employer to give you all the expert training you need to further your career.
It's one thing for an employee to receive training for their current position, but there are so many other areas of training based on what they ultimately want to accomplish with their career. For example, if you're currently in an entry-level position with aspirations to ascend to upper management, you can't solely rely on the company to provide you with all the training you need. At some point, the company will provide this type of training, but how long are you willing to wait for such an opportunity?
Instead of waiting, you can communicate that you want to learn something different, such as managerial training or brushing up on your public speaking. From there, the company can evaluate what works and what doesn't. In the end, however, it all starts with the employee. If an employee knows what they want and they're having open conversations about their goals, it becomes clearer for both the company and the employee if this is something that is feasible.
Always lead by example.
As a CEO, you can always teach your employees, but if you're not walking the walk, those lessons will simply serve as just words. The key is to talk with your employees, not at them.
If your employees don't respect you, your time as a leader within the company will be short-lived. It's also important to remember to ask for expert advice from your staff. A CEO isn't necessarily the best at everything, so the first step toward leading by example is to recognize that and make sure your staff feels valued for their own expertise as well.
By valuing them for their expertise, you will also empower their growth within the company.
Final Thoughts
Laying the foundation for leadership development comes down to knowing your employees and how they contribute to your company.
I was fortunate enough to be one of my company's first hires and move my way up to CFO and now CEO. So I was able to wear a lot of hats while immersing myself in the company culture. Therefore, when I have conversations with employees of all levels, the fact that I've done what they're currently doing allows me to have clear and honest conversations with them about how I developed my leadership skills.
The ultimate goal should be for your staff to learn by example instead of from what you say. That way, they see what works and can adopt their own leadership style.
Article link – https://www.forbes.com/sites/forbesbusinesscouncil/2023/01/26/three-ways-ceos-can-lay-the-foundation-for-leadership-development/?sh=6529baf22a33