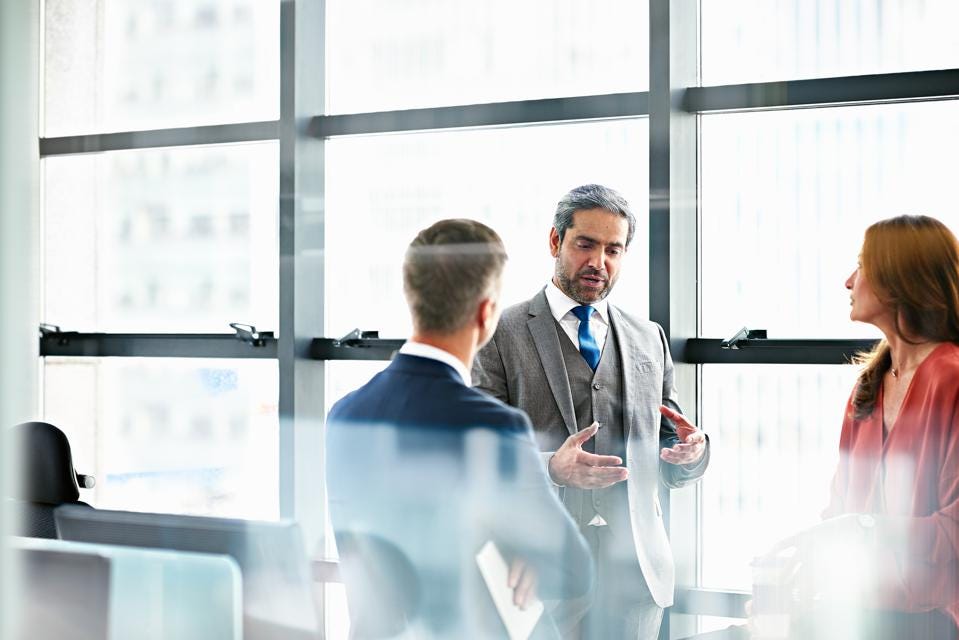 These Three Leadership Trends Are A Must For 2022
If the last two years have shown leaders anything, it's that adaptability to rapid and unpredictable changes is essential. It's well-known that the effects of the pandemic and rising inflation are impacting companies and employees. Workers are reevaluating their situations and prioritizing different values, such as flexibility, and businesses are having to pull out all the stops to prevent people from leaving and replace those who do.
This means many companies are refocusing on what leadership entails. Recent trends encompass culture, leadership styles and the structures of managerial roles. Also up for discussion are work options and approaches to recruiting and professional development. Increasingly, business leaders are realizing they need to better support changes in employees' needs.
Part of improving your leadership skills entails paying attention to emerging shifts in workers' expectations. While trends don't always stick around, some of what's occurring in the labor force show signs of permanently transforming the employer-employee relationship. Here are a few leadership trends that are a must and why you should embrace them.
Implementing Hybrid Working Options
During the height of the pandemic, everyone from software developers to customer service agents shifted to remote work to mitigate the virus's spread. Technology and project management applications made working from home feasible for jobs outside of industries such as retail and healthcare. At first, many perceived remote work as a temporary adjustment but as time has gone on, employees are reluctant to give up the increased flexibility and work-life balance.
Companies have also seen the value in letting workers continue to work from home at least part of the week. Hybrid work options are becoming standard among knowledge workers, as leaders realize many employees prefer remote work. They can get more done away from office distractions and better juggle personal and professional responsibilities. On the other hand, leaders want their teams to maintain at least some in-person contact.
Companies without hybrid work arrangements are finding it more difficult to retain and attract talent. But hybrid teams change the way managers lead and bring up questions of fairness and standards. While leaders should provide feasible hybrid options, some structure is needed. Leaders must determine how many days employees can work remotely and craft performance measurements that focus on output and quality. They also need training in hybrid team management.
Changing Skill Set Requirements
Job postings are notorious for enumerating a laundry list of detailed requirements. Hiring managers are used to quantifying what their ideal employee looks like. It's common to include phrases such as "a bachelor's degree in X or Y is required." Managers also often spell out specific skills or years of experience. It's not unusual to see demands like "three years of ad agency experience" or "four years of troubleshooting experience with servers."
However, some of these requirements may be too specific and overlook transferable skills. Overly detailed and precise lists of minimum and preferred qualifications can also perpetuate hiring biases. Potential candidates who are intimidated or turned off by a posting's litany of requirements won't apply. And companies and leaders may be missing out on workers who have the mindset to succeed and a desire to learn.
While some jobs and industries, like healthcare, demand specific knowledge and skills, other businesses are starting to drop degree qualifications. Related skill sets and experiences can be just as valuable when seeking talent. Even more so are qualities and abilities that can't always be seen on paper or verified through a background check. Honesty and soft skills are often better predictors of job success. Write job descriptions that look for trainable candidates instead.
Offering Employee Well-Being Options And Programs
The pandemic heightened the importance of wellness and employee assistance programs. In March 2021, Gartner announced survey results that revealed 29% of workers were experiencing signs of depression related to Covid-19. About 49% of participants also said they participated in mental well-being programs sponsored by their employers. Supporting employees' physical and mental well-being is more than a trend; it reflects an organization's priorities.
Cultures and leaders that support workers as people rather than a means to an end can better retain them. Options such as standing desks and mats, balance boards and extended breaks for walking or group exercise encourage healthier habits. Bringing in nutrition and physical fitness experts for educational sessions also promotes holistic approaches to work. Mindfulness and stress reduction techniques are additional topics to include in these sessions.
Leaders who set healthy examples by discouraging long hours and the neglect of personal time promote a less stressful work environment. Creating psychological safety among teams and individual employees shows that employers care about more than the bottom line. When workers know they can openly express their struggles and receive proper support, they're more likely to view managers as allies. And that often leads to higher levels of trust, engagement and productivity.
Moving Forward
Recent leadership trends may reflect some of the disruptions and uncertainties the business world is still facing. However, there's little doubt those disturbances have changed the balance of power between employers and employees. Some of those adjustments, including offering hybrid work options and supporting workers' well-being, are things managers can't afford to ignore. Those who do may find themselves without a workforce to lead.