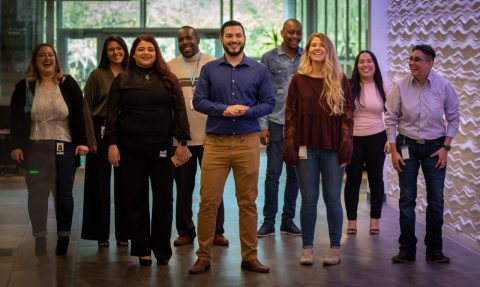 The Powerful Connection Between Inclusion And Well-Being
Research suggests that by 2030, 100% more time will be spent at work solving problems and 41% more time will be spent on critical thinking and decision-making. I refer to this type of thinking as "cognitive sharpness," thinking clearly and rationally to problem solve and make effective decisions. Cognitive sharpness is hugely impacted by both inclusion and psychological well-being.
Neuroscientist Matthew Lieberman's research suggests that the human brain is constantly scanning and assessing the environment for possible signs of rejection and social exclusion. The primary reason for this is to keep us alive and safe from threats and harm.
Matthew Lieberman and his colleague, Naomi Eisenberger, found from neuroimaging studies of the brain that signs of possible social rejection and exclusion activate an area of the brain called the dorsal anterior cingulate cortex, the DACC. This is the same part of the brain that registers physical pain. The DACC is responsible for two types of thinking that are both important for effective functioning, and they sit at either end of a neural seesaw. On one side is "social cognition," which is all about assessing the environment to ensure it is safe, and the other side is "cognitive sharpness."
When the DACC is activated by perceived social rejection, the neural seesaw becomes hijacked by social cognition, which means cognitive sharpness is dulled and hampered. Instead, attention goes to assessing and interpreting the environment, relationships and questioning one's status within the team.
The neural switch to social cognition made sense when we lived in our cavemen and -women days, as it allowed us to recognize if we were at risk of being outcast from our tribe, which was a direct threat to our safety and survival. The automatic switch to social cognition meant we were able to prioritize assessing our environment and take steps to seek acceptance and allegiance with our tribe again. However, in today's modern workplace, it is not in our interests for our neural seesaw to be tipped to social cognition, as it means cognitive sharpness is compromised, and we are unable to think clearly, show up as our best selves or do the meaningful work we are meant to be doing to have fulfilling careers.
A series of subtle signs of perceived rejection can tip the neural seesaw to social cognition, and this could be as subtle as receiving limited eye contact, being overlooked for an opportunity, being spoken over, having one's name mispronounced or not being invited to share views and ideas.
While these behaviors appear small and often unintentional, their impact is far from small, as they have the power to hijack the neural seesaw and divert attention solely to social cognition.
Those who are in the minority and underrepresented experience subtle signs of workplace rejection regularly, which leads to feelings of not being heard, seen or valued. Through no fault of their own, but due to the environment and interactions they face, their neural seesaws are forced out of sync, and their energy is wasted in social cognition rather than in cognitive sharpness.
Over time, the cumulative effects of exclusion wear down a person's psychological well-being, biological, emotional and behavioral functioning, which then impacts work performance, self-esteem and confidence at work and at home. Recent research published by Diversity Council Australia highlights how everyday workplace exclusion impacts people's mental health: 41% of people report poor mental health when left out of social gatherings or networking opportunities, 49% of people report poor mental health when others have made incorrect assumptions about their abilities, 47% report poor mental health when they are ignored at work and 55% report poor mental health when they don't have access to the same opportunities and privileges as others.
How can we expect people to do their best work when their neural seesaws are in social cognition overdrive, due to no fault of their own?
When inclusion happens well, employees experience a strong sense of belonging and synergy with the organization, their team and the work they do. The impact of inclusive leadership is highlighted by research done by BetterUp. This research found that when managers are seen as inclusive, employees experience 3.4 times more job satisfaction and job engagement and 2.7 times higher commitment to the organization.
On average, most employees spend well over a third of their day working, which makes inclusion even more critical. As humans, we are wired for positive social connection to shape our sense of identity. When people are regularly reminded that they belong, they are likely to give their best, think clearly, feel safe to express their views and ideas and be happier, engaged and supportive of others, too. They experience the benefits of having a balanced neural seesaw.
As leaders, managers and colleagues, we all have the ability to shape and influence the neural seesaw balance in others. We have the power within us to make others feel seen, heard and valued through how we role-model inclusive behaviors and how we reinforce signs of belonging.
Here are key ways to signal belonging:
• Acknowledge others through giving eye contact, learning to pronounce names correctly and giving people your time and attention.
• Invite others into your space to share views and ideas, and look at ways to extend your connections and networks to those you have not previously considered extending to.
• Look to build the visibility of those who don't often get recognized, praised or celebrated.
Finally, hold a mirror up ask and yourself these three questions:
1. Are you really helping others be the best version of themselves?
2. Are you actively recognizing when people's neural seesaws are out of balance?
3. Are you inadvertently adding to the neural seesaw imbalance in your workplace?
Leaders, managers and peers all have a responsibility and instrumental part to play in driving a culture of increased inclusion in the workplace. Such a culture will boost psychological well-being and enable everyone the opportunity to apply their full potential and do their best work through cognitive sharpness. How will you play your part to foster inclusion and belonging in your interactions with others today?
Article link-https://www.forbes.com/sites/forbescoachescouncil/2022/07/18/the-powerful-connection-between-inclusion-and-well-being/?sh=517f05d361b0