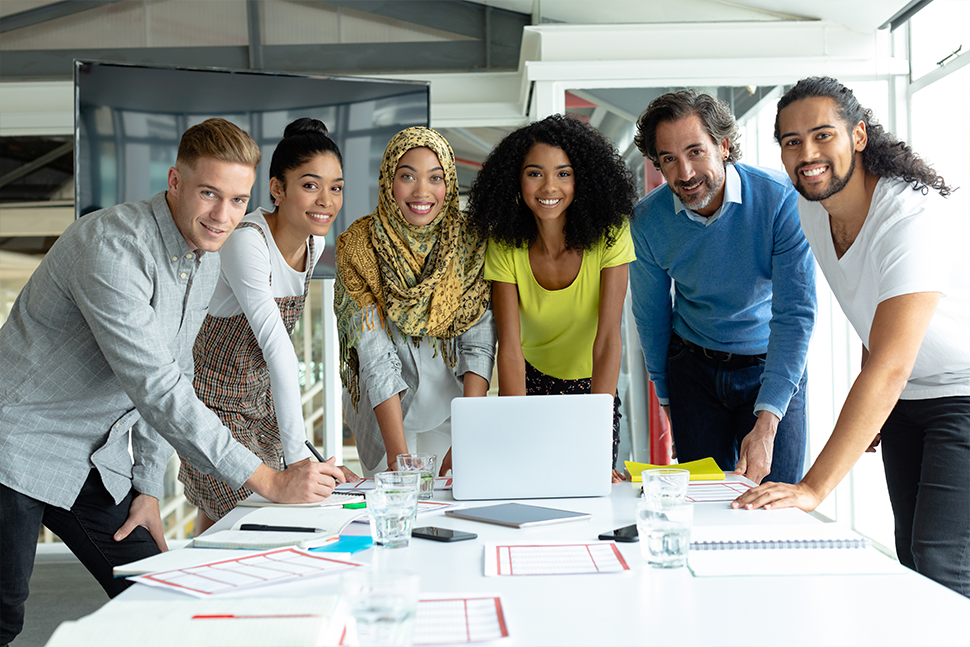 How Diversity Without Inclusion Hampers Relevance in Property Management
When you call your leadership team around the conference table for a strategy meeting, what does the group look like? Previously in this space, we discussed the journey organizations must take toward greater diversity, equity and inclusion (DEI). But diversity without the inclusion that filters through the entire organization—top to bottom—amounts to nothing more than hypocrisy.
The first time we met (via Zoom), Kaci Hancock, CPM, ACoM, and IREM's 2022 Diversity Advisory Board Chairperson, challenged me with this simple question: How many women are in Blanton Turner's leadership? Caught off-guard for a moment, I initially drew a blank, but shared with her that while I wasn't sure of the exact number, women were well represented on every level at Blanton Turner.
The diversity represented at the decision-making table is a different imperative than filling lower level seats simply to check a box in the name of a mission statement. Offering a breadth of voices in leadership capacities changes the strategic dynamic, especially during these times of cultural transition. Our constituents, be they owners, investors, tenants, residents or vendors, are changing. As these stakeholders become younger and more diverse in terms of ethnicity, gender and cultural identification, their needs, wants and expectations change as well.
To remain relevant, our short and long-term decisions must reflect that changing dynamic. It's no small point that public companies, ratings agencies and shareholders are increasingly eyeing social and governance protocols in their evaluations.
As Charles Kellom, IREM's Senior Director of Diversity Equity & Inclusion explains, reliance on how we've always done things will no longer serve. Because those practices were likely established at a time when applying DEI strategies to corporate decisions was a low priority at best, or even a non-existent one. "On one hand, since the George Floyd uprising, many organizations have updated their policies around hiring and diversity," he says. "And yet it would shock you to see how often the outcomes remain the same."
What are we missing here? By excluding certain types or certain positions from the seat at the decision-making table, we turn our backs on the tapestry of backgrounds and cultures that can better serve our constituents. Charles points to the practical fact that "folks at the lower end of the corporate hierarchy often have more information about how that organization actually operates than those at the top." Here are two cases that prove this point.
Case Number One: Kaci Hancock is operations director at Houston's historic Rice Village Shopping District. She recently called her team of eight, including the chief engineer, day porters, parking and security personnel, to strategize on a quarter-million-dollar upgrade of parking meters. (The center was moving to a single-pay app-based parking solution.) Kaci notes that, while such a broad strategy meeting is typical of her inclusive management style, it's not an industry norm.
"I manage an outdoor center, so naturally the maintenance, security, and parking teams spend the majority of their day in the middle of the center's hustle and bustle," she says. "Without their input, decisions could have been made that would have negatively impacted ownership's bottom line. Taking the time to discuss the project from beginning to end with my entire team allowed us to strategically identify the best method of isolating construction areas without impeding the daily operations of my on-site team, pedestrian traffic and tenant deliveries. These types of discussions provide insight on how to best navigate operational challenges while maintaining a safe workspace for our customers and contractors. I'm a firm believer that inclusive leadership involves giving everyone a voice when working together on a project.  Without the team's input, you lose the 360-degree view of the project and knowledge of potential obstacles."
Case Number Two: At Blanton Turner, we recently were reviewing our internal systems and, in the process, realized that it took us 57 steps—nine minutes and nine seconds of "people time"—to process each invoice we paid, a painfully inefficient process.
We could've asked any one of the departments involved with bill paying procedures to streamline the process. But no single department or individual could see the entire picture with the 360-degree view Kaci mentioned.
By engaging people representing everyone involved—from our accountants, site managers, portfolio managers, administrative staff and our maintenance people—we were able to trim the process down by nearly three quarters, and saved a huge amount of "people time" spent processing invoices. And as Charles points out, such interaction of people at various "heights of the totem pole" brings greater understanding, and through understanding, greater respect for everyone.
I believe we suffer from a collective (and hopefully unintentional) bias. It's a bias that was born in an earlier time when less light was cast on the need for inclusion. We're often most comfortable working in "known" environments with people that are similar to ourselves, and that's a dangerous foundation for work at the decision-making table, where, as Kaci points out, "Groupthink and the need to go along just to get along" can prevail.
A side effect of that Groupthink is anonymity. Too often, leadership focuses only on the function, but not the people performing those functions. This anonymity can lead to broad-brushstroke assumptions and another type of bias that distrusts, rather than celebrates, our differences.
"By holding on to what was always done, and how it was done, you're likely holding on to a system that by its nature, keeps people excluded," says Charles. "To be more equitable, you have to be open to trying something new." Importantly, he adds that professional development of younger and more diverse staff members is key to that openness.
We must be careful here, of course, not to throw the baby out with the proverbial bathwater. We are where we are today because of the hard work of those who have gone before us. It's imperative not to turn our backs on those who've contributed so much, while at the same time, to the extent possible, bring them and their legacy contributions along on this journey toward true inclusion. That evolutionary progression, with its genius and its failures, also makes up the tapestry of our industry today, and forms the basis for where we will go in the future.
It's worth mentioning that while this industry has a long way to go, I think there's something inherent to real estate management, and specifically to IREM, that allows us to lead in the journey toward acceptance and understanding. Specifically, there are a lot of entry-level positions in our industry, and IREM serves entry-level positions through education, networking and membership.
Putting aside the current trials of hiring that all sectors are experiencing, IREM has an earlier path to entry than many other professions do. An earlier entry into the profession means an earlier entry to leadership positions for those with the talent to execute. And with more voices at the leadership table, we all win. 
Article link- https://www.wealthmanagement.com/property-management/how-diversity-without-inclusion-hampers-relevance-property-management