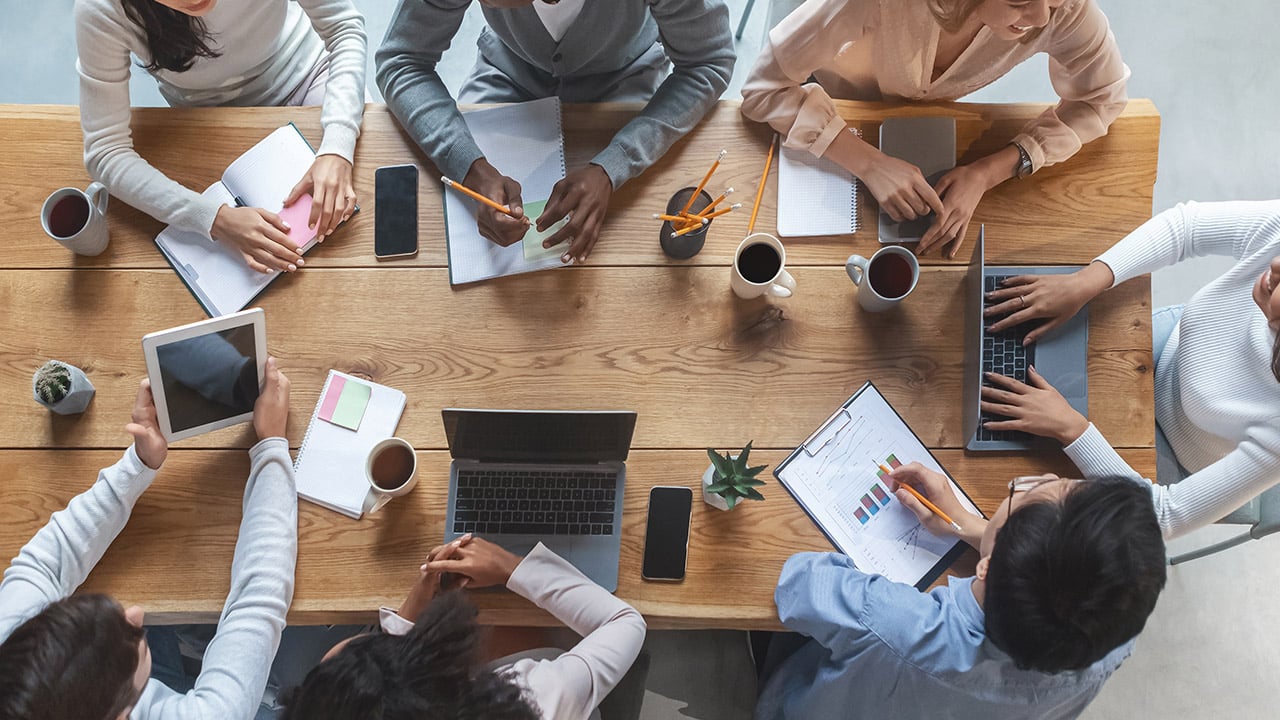 The workplace is where we spend most of our day working, learning, collaborating, and growing. Since the time we spend at work is not little, we should feel very comfortable and work with positivity. 
In this blog, we'll discuss more what matters in the workplace and why employees prefer to work at companies that promote diversity and inclusion.
Importance and benefits of Diverse and Inclusive Companies 
Diversity and inclusion make the company a better place to work and achieve goals together as a team. A diverse and inclusive company is a workplace that contributes to growth and ensures that everyone, regardless of what they do for the company, feels equally included and supported in all areas of the workplace. 
Diversity means that people with different political beliefs, races, cultures, sexual orientations, religions, classes, and/or gender identities come together. On the other hand, inclusion means that everyone in the diverse mix feels included, valued, respected, treated fairly, and embedded in their culture. The combination of these two elements in a company is the best workplace for employees.
It is statistically proven that workplaces that strive for diversity and inclusion are safer, happier, and more productive. And including diversity and inclusivity at work not only impacts the productivity of employees but also boosts the satisfaction of clients or customers. Both of these combined will lead to the success of a company. But let's discuss further why people prefer to work toward these goals and what the benefits are.
Employees prefer a workplace that promotes innovation 
Innovation brings various benefits to the company, and people who want to grow professionally prefer to work in such a place. The benefits of being innovative in business include different aspects. First, it helps solve complex business problems because the problem is not always analyzed in the same way but innovation creates opportunities to see problems from a different point of view. Next, it increases productivity. When companies give fresh ideas related to, for example, addressing an issue or providing possibilities for employees to grow professionally, these factors help to minimize feelings of boredom in employees. Other advantages of promoting innovation in the workplace are that it supports the business process with unique approaches, reduces costs and increases revenue, and helps the company stand out from the competition. 
A company with a diverse team will foster innovation to a greater degree because each member of the team brings all of their abilities, talents, values, interests, academic knowledge, internships, and life experience to the company. As a result, diversity is the spark that drives forward-thinking, innovative organizations to success. Fresh ideas, better identification of products or services to meet the needs of new customer profiles, and a pleasant workplace – are some of the benefits of having a diverse team, which are all a result of what employees share at the workplace. 
According to statistics, companies with high diversity have 19% higher innovation turnover. 
Together, employees can go far
Making decisions in business is not easy and could be the most critical step in the business process. This happens usually because great opportunities could arise from one decision or everything could be destroyed. That's why the decision-making process is easier in a diverse team and almost always ends in success, with better results. How this is achieved is that every employee has the chance to share how they see the problem and enlist the possible solutions to it. Working together like this will make employees bond even more with one another because they feel at ease whenever they want to share an idea. In addition, such collaboration opens doors to new ways how a problem can be solved, hence, employees can learn from one another. 
Performance is better in a diverse and inclusive team
A diverse and inclusive team will perform better because they focus on achieving goals with different perspectives, ideas, and approaches, but with the same goal. They focus on achieving the goals they set.
Characteristics of people who work better together and perform better include:
They have clear goals
Understand how their work fits into the organizational mission
They know their roles and responsibilities
Have a clear communication 
Know how to manage work and deadlines 
Respect each other, trust and celebrate achievements 
Are able to learn all the time and be updated with new trends
Good communication, knowledge of responsibilities, and mutual respect help to create a good environment in which everyone can grow. What should be mentioned here is the communication among each other that makes a difference. Also the sharing of information, with the goal of understanding everyone and letting them contribute to each task and the needs of the company. Making everyone feel at home should be an important point that makes a company attractive to employees. Better employee communications could make a difference. 
With good performance, the payoff is naturally higher, and the first to benefit are the employees, therefore they prefer to work in a diverse team. 
Higher profit
As mentioned earlier, team members that know how to manage work and deadlines and take responsibility means that they respect each other. Doing what you can at work, and why not help whenever other team members are stuck on an issue, or have a high number of tasks means that at the end such teams celebrate successes together. So, taking responsibility and helping whenever you can helps the company achieve its goals. 
If a company achieves its goals, it will continue to grow. The core of any successful company is innovation. When a company together with investors tries to foster an innovative culture, it may become more efficient, save time and money, and boost its competitiveness in the global economy. And with growth and success come also other potential investors who bring innovative things to the table. This represents one of the reasons why employees like to work in such an environment. 
How to have a diverse and inclusive team
Since working in a diverse and inclusive environment brings many benefits, it can be challenging for the company to select the right applicants from different places and backgrounds. Because now employers have access to large collections of resumes so companies can find that unique candidate that fits best in the company.
Working with a company that can find people that fit the company profile is very important because it saves time and money. The company to work with in this case is called an "employer of record" and is a third-party company that acts as a legitimate employer for a client company's workforce. Such employers of records will help you manage all the resumes by analyzing them closely to find potential candidates for your company. 
Some of the benefits of working with an Employer of Record are as follow. It can employ professionals in multiple countries without having to form a local company; it knows all applicable legal requirements and is liable for non-compliance; it seeks to avoid worker misclassification; through an EOR solution, a caregiver of choice can be paid in compliance with Medicaid and tax laws; and it can also provide an affordable compliance solution in industries where workers would otherwise be (perhaps illegally) classified as contractors rather than employees.
Working in an environment and with a collaborative team makes your work easier and also promotes the achievement of goals. The warm environment full of harmony contributes a lot to a diverse and inclusive team where they share their opinions, ideas, and problems, communicate well and grow together. A diverse team is also beneficial to the company as it creates innovation, increases profits, and attracts investors, which overall means a growing company. Working with a company that facilitates the hiring process saves you money and time as a business.