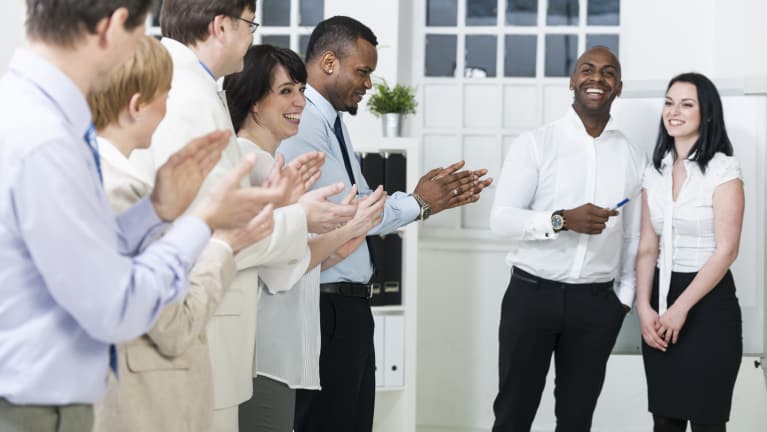 6 steps to creating more inclusive job descriptions
A job description and the hiring process are often the first opportunities a prospective employee will have to glimpse your company culture and the emphasis you place on diversity, equity and inclusion (DEI). If what a candidate sees puts your organization in an unfavorable light, it could have serious consequences.
Consider this compelling research on the importance of DEI for today's new hires. According to a survey by Glassdoor, "more than three in four employees and job seekers (76%) report a diverse workforce is an important factor when evaluating companies and job offers." And, "about one in three employees and job seekers (32%) would not apply to a job at a company where there is a lack of diversity among its workforce."
First chance to attract employees
Let's start by considering a job description from the candidate's viewpoint. In the initial moments of scanning a job posting, candidates will notice how you're representing your company, defining the job, articulating the dynamics of the role and describing the interactions between employees. They'll get a feel for the company's personality and tone, and get a glimpse into the degree to which it's inclusive. Their reaction in those moments could be a significant factor in whether they decide to pursue a position with your organization.
To help you ensure that this all-important communication is one of the strongest components of your hiring process, let's break down the steps for creating more inclusive job descriptions and explore the major factors in play for reshaping these pieces to reflect a more inclusive organizational culture.
1. Create shared understanding around inclusion
Because job descriptions are just one piece of a much larger puzzle, start by creating a shared understanding around inclusion. For any positive changes to take hold, employees and managers need to have a holistic sense of what it means to behave and manage in an inclusive way.
It starts with education and training that helps employees establish foundational knowledge around the principles of diversity, equity and inclusion. It then moves through modeling new behaviors for employees in their day-to-day activities and equipping managers with concrete guidance on inclusive management practices.
2. Conduct an audit and implement a plan
Your next step will be to assess the situation within your organization. That will require setting up a systemwide ongoing review of all job descriptions currently posted, and those in development.
Consider forming a review team that can offer a rich diversity of perspectives – and be sure to consult those people who will be working closest to the person in the position being described.
To set them up for success, collaborate with your review team on a set of criteria that will help them look for and screen out hidden biases and exclusionary language. Then work with the team to incorporate each of the steps below.
3. Showcase your commitment to DEI
As you review your job descriptions, consider how you are positioning your company's focus on DEI. This is a place where you can make it clear that DEI is one of your top priorities, along with demonstrating your related concrete actions.
For instance, do you offer an annual DEI training program? Do you provide your employees with complementary activities that reinforce what they have learned (i.e., discussion forums, regular check-ins, employee resource groups)? Does your organization facilitate career mentorship?
There's no need to detail every DEI effort in the job descriptions, but you can provide an overview and direct candidates to your website for more information.
4. List the skills and experience you truly require
Make sure all requirements you've listed on your job descriptions are justifiable, rather than "nice to haves." For instance, is a four-year degree really needed to perform well in the job? Could alternative education or on-the-job experience meet the requirements just as well?
Another example, consider whether stating the years of experience is truly applicable to the role. In general, you'll want to stay open to all the different ways someone may have acquired the experience or skills you're looking for.
Lastly, remote work can be one way to provide flexibility for people who need it. If your organization is structured to allow for remote work, consider which positions can be most successful hybrid or remote.
5. Use language that is inclusive and clear
Research shows that exclusionary language can have harmful effects and should be removed from all communications, including job descriptions.
Here are some steps you can take to make your language more inclusive:
Be clear, specific and deliberate with your language choices. Screen out any oblique language, "corporate talk," jargon, hidden meanings and anything else that leads to a lack of clarity.
Eliminate words and phrases rooted in racial bias, gender descriptive words, as well as language that might offend or exclude someone because of their identity.
Avoid colloquialisms that can be confusing, and be careful with the use of idioms, metaphors and similes that may not be relatable for everyone.
Remember that language is ever-evolving. To stay current, consult resources like the American Psychological Association's Inclusive Language Guidelines or the U.S. General Services Administration's Content Guide to Inclusive Language.
Be sure to carry your inclusive language choices from your job descriptions into other channels (website, emails, etc.).
6. Make sure what you say reflects your organization's inclusive values
An inclusive job description is about more than avoiding certain terms; it's about conveying meaning and intent. What you say in a job description will reflect your driving values as an organization.
For instance, if your job description says, "must thrive in a competitive environment" or "must thrive in a collaborative environment" consider the emphasis on one value over another – competitive versus collaborative. "Competitive" evokes the idea that each person will aim to surpass the other, while "collaborative" focuses on team success. This example points out the degree to which we need to think about our language as a way of expressing our priorities. As you do that, reflect on the words and ideas that represent inclusion: appreciation, fairness, empathy, belonging and embracing differences.
Finally, you can find alignment between your organization's values and what you say by tethering back to the language in your mission/vision statements and brand guidelines to ensure that the principles articulated there are also expressed in your job descriptions.
Job descriptions are an important gateway to attracting talent to your organization. In addition to being a functional way of outlining job responsibilities, they're a crucial part of orienting prospective employees to your organizational values and priorities. Making them as inclusive as possible is an important testament to your organization's overall commitment to cultivating a more diverse, equitable and inclusive work environment.
Article link – https://www.hrmorning.com/articles/creating-inclusive-job-descriptions/